Brett's Top Ten
Here is a list of Brett's favorite things:
Dinosaurs
Dinosaur (the movie)
His blankie
The Packers
McDonalds french fries
Going to the park
More Brett!
More pictures of Brett can be found here.
Last Year's Birthday
| | |
| --- | --- |
| | I am looking forward to my 4th birthday! Here's a picture of me when I turned 3. I had a Thomas party! This year, I get to share my birthday party with my sister. She was only 4 days old when this picture was taken. |
Me and My Sister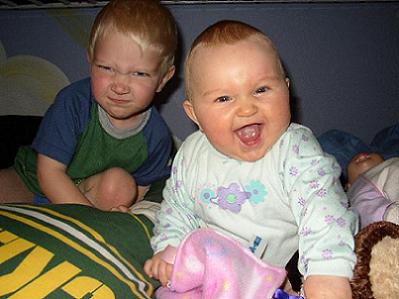 When Daddy took this picture, I wanted to look at it. He showed it to me on the digital camera and I said, "I'm mad!"